Gerry: The Canadian Press is Canada's only independent national news agency, operating in both official languages with more than 180 journalists producing real-time multimedia content including text, audio, video, images and interactive graphics.
Unlike virtually every other media organization in Canada, CP has no business-to-consumer relationships. We are a content wholesaler, helping our customers power their own digital, broadcast and print properties with our storytelling and services.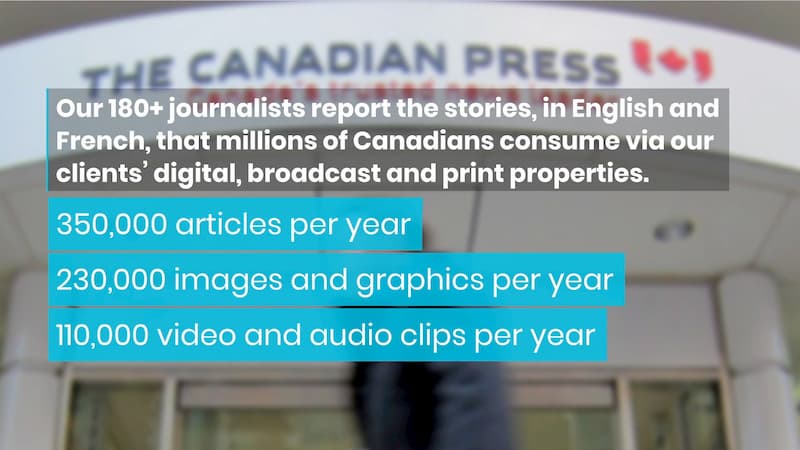 Every day, millions of Canadians consume our news via our clients' newspapers, magazines, radio and TV newscasts, websites, company blogs, social channels, digital signage screens and more, as we produce approximately:
350,000 articles per year
230,000 images and graphics per year
110,000 video and audio clips per year
We do not carry or sell advertising, and we don't directly compete for reader or viewer traffic. The absence of a consumer-facing suite of products makes CP the industry's "honest broker," where media brands rely on us to help shape their coverage that keeps Canadians informed 24/7.
For more than 100 years, our reputation for being fast, fair and accurate has meant our customers rely on us to:
Help set the news agenda and curate the top stories;
Save them time because they use our content "as is" or as background for their own stories;
Cover the core national stories, so their staff can focus on local angles and exclusives;
Be there when it matters, when stories break in hard-to-reach locations or during times when newsrooms have little to no staff.
CP is renowned for the excellence of its award-winning journalism and our brand is critical to adding a credible and powerful voice to the work of our clients.