Toronto father and daughter design swimsuit tailored to transgender children
Adina Bresge
THE CANADIAN PRESS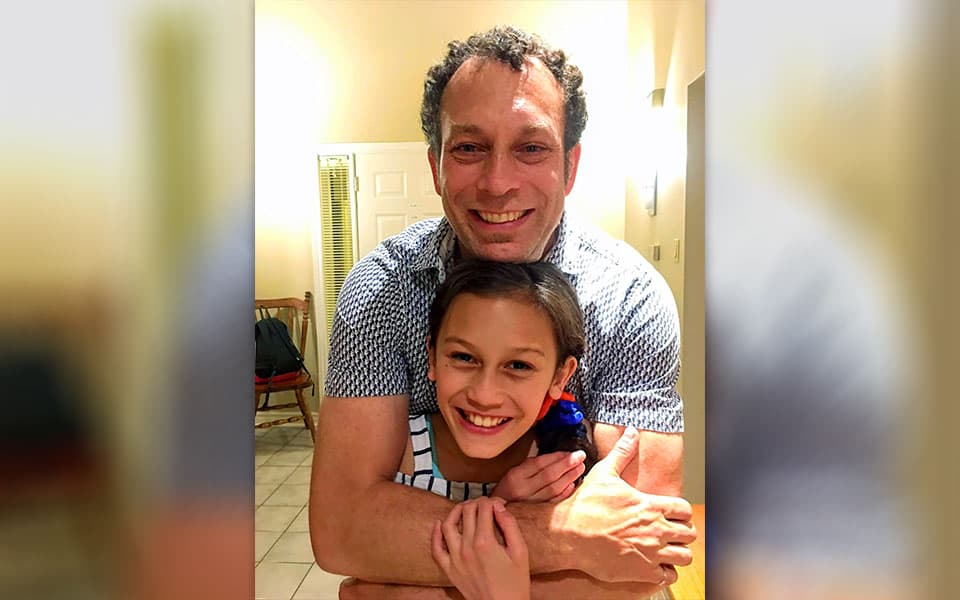 Jamie and Ruby Alexander are shown in this undated handout image. THE CANADIAN PRESS /HO-Rubies-Jamie and Ruby Alexander
TORONTO -- A Canadian clothing line is helping transgender kids feel confident at the beach or pool with bathing suits designed to maximize comfort without compromising style.
Jamie and Ruby Alexander are the Toronto father-daughter duo behind Rubies, a fledgling fashion business that specializes in form-fitting clothing for trans and non-binary girls.
Ruby says she's proud to see how the brand is allowing other trans kids to take part in the same activities as their friends without worrying about what they're wearing.
"A lot of trans kids just stopped doing what they love to do, because they don't feel comfortable," Ruby, 12, said in an interview. "We wanted to change the kids' lives, and we're happy to do that."
Since Ruby came out as transgender at nine years old, Jamie Alexander said fashion has been an important part of how she expresses her identity. But it hasn't always been easy to balance style against concerns for her safety.
At first, Ruby wore baggy boardshorts and sweatpants to athletic activities such as swimming, gymnastics and dance, Alexander said. Eventually, Ruby wanted to wear a bikini like her friends, so they got her one at a department store.
But as they were getting ready for a vacation in Central America in 2019, Alexander started to worry about what Ruby should wear to the beach in a place where there may not be the same cultural awareness of transgender identity.
He looked online for a swimsuit that would allow her to safely have fun in the sun, but the limited options he could find didn't seem age-appropriate.
Alexander knew that other families must be dealing with similar struggles, so he set out to launch a company that would offer a solution.
He teamed up with Ryerson University's Fashion Zone to design prototypes for bathing suit bottoms that uses a soft compression to provide a worry-free fit.
After getting in touch with other parents online, Alexander biked around Toronto to deliver samples, so transgender kids could try them on and give feedback.
Some families said their kids hadn't had much exposure to other transgender children, Alexander said, and it soon became clear that Ruby had a gift for connecting with customers.
"To say, 'hey, there's someone else out there just like you that understands you and understands what you're going through' is a really powerful thing," Alexander said.
"It's really touching to hear the impact Ruby and I can have with these families."
Alexander partnered with a Toronto clothing manufacturer to gear up for a launch last spring, but production was set back by the COVID-19 pandemic. Still, Rubies has managed to sell roughly 1,000 swimsuits in its first year, Alexander said.
Ruby writes a personal message to accompany every shipment, which for some customers seems to be just as valuable as the product itself, said Alexander. "We've gotten feedback that said some kids will put these postcards under their pillows, like it's this special treasure," he said.
Alexander also launched a crowdfunding campaign so Rubies could donate swimsuits to families who many not be able to spend $57 on bikini bottoms.
The brand has also expanded its offerings to include T-shirts, and recently started accepting preorders for a line of underwear.
Alexander said Ruby has been involved in every step of getting the business off the ground, helping her father keep up with the latest trends on top of the usual demands of homework and chores.
While it can be hard to juggle her duties as Grade 7 student and fashion maven, Ruby said it's worth it to see the impact that Rubies is having on kids like her across the globe.
"There's other trans kids in the world who need help, and I'm happy to see them smile, and I'm proud to be the person who I am," she said
B.C. man who helped a stranded U.S. family rewarded with new car, lifetime supply of peanuts
Nick Wells
THE CANADIAN PRESS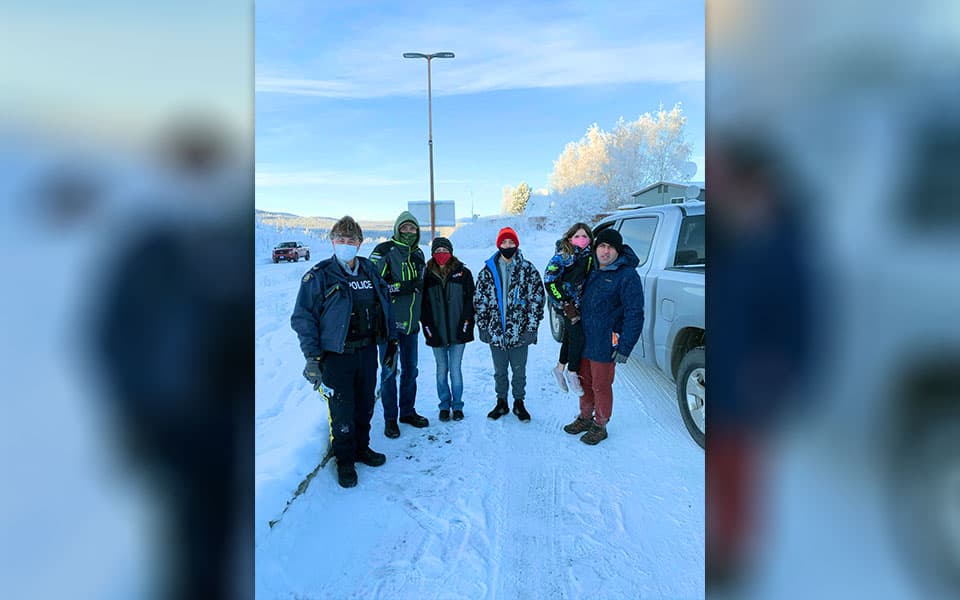 Left to right: Beaver Creek RCMP Cpl. Robert Drapeau, Gary Bath, Lynn Marchessault, Payton Marchessault, Rebecca Marchessault and Tim Marchessault near the Canada-U.S. border crossing near Beaver Creek, Yukon. GARY BATH/THE CANADIAN PRESS
A B.C. man who gained widespread attention for helping drive a stranded American family to the Alaska-Canada border will soon be able to do that trip in a new car.
Gary Bath, a Canadian ranger and military veteran in Fort St. John, helped Lynn Marchessault and her family after they were stranded in a November snowstorm on their way to join her husband.
That good deed has been recognized by Planters, the American nut company, which is giving both Mr. Bath and Ms. Marchessault new cars and a lifetime supply of peanuts.
"They reached out through [Facebook] Messenger, trying to get a hold of us," Mr. Bath said in an interview. "Their message was like: 'I know this is going to sound crazy, but trust us, it's true.' "
"I was pretty shocked. I thought the story had had its run and we were done."
The nut company's gifts are part of a decision to forgo an expensive ad for the Super Bowl this year. Instead, it is using the money to recognize those who have helped others. The company says it is spending US$5-million on the giveaway.
Ms. Marchessault and her two children were travelling from Georgia to Alaska in early November to join her husband when she got stuck near a highway lodge for temporary workers in Pink Mountain, B.C.
Her car, Mr. Bath said, lacked winter tires and she wasn't used to driving in the snow.
Mr. Bath heard about the situation through friends on Facebook and told his wife.
"She was done reading it, and she said, 'Why are you still here and not helping her out there right now?' "
Mr. Bath said the two families have become close, and he talks to Ms. Marchessault nearly every day. He and his wife even sent Ms. Marchessault's children a Canadian gift package for Christmas: ketchup chips and Tim Hortons.
Mr. Bath admits he's surprised by the attention his story has received around the world.
"What I did was nothing. I just sat in the truck and drove for a couple of days. That's nothing major to me."
"Operation Love": restaurateurs lend a hand to the most disadvantaged
Stéphane Blais
LA PRESSE CANADIENNE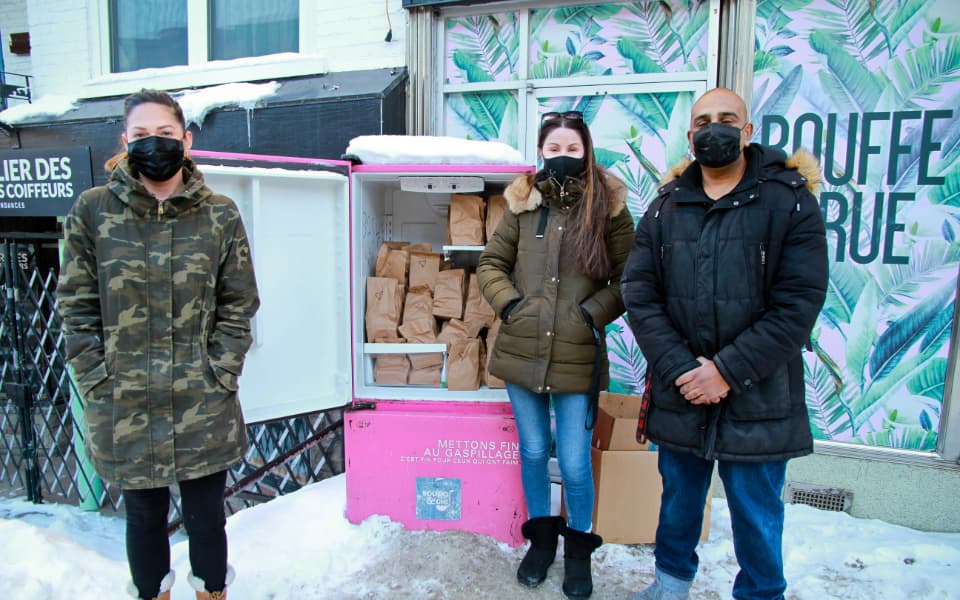 Genevieve Lafleur, Emilie Roberge and Darryl Masih in front of a community fridge in Limoilou on January 24, 2021. The young business owners from Quebec City fill community fridges in their region with hundreds of lunch bags to feed the most disadvantaged. LA PRESSE CANADIENNE/STÉPHANE BLAIS
QUEBEC – On a freezing Sunday in January, Darryl Masih puts dozens of lunch bags into an old white refrigerator, located outside Saint-Roch Church in Quebec City's Limoilou neighbourhood.
As he fills the fridge, a line of masked and bundled-up people forms behind him. In the line, a woman who is obviously hungry quickly eats the sandwich and the piece of chocolate she finds in the lunch bag.
The bags are a product of "Operation Love," an initiative of Masih and three other young business owners from Quebec City, hard hit by the pandemic. Their goal: fill community fridges in the region with hundreds of lunch bags to feed the most disadvantaged.
Denis Tremblay, who doesn't have a job due to health problems, prefers to bring the lunch bag home and find out later what his "surprise bag" contains. "With all the heaviness of what we are going through, it brings a little lightness, and it meets a need, because times are tough," Tremblay told The Canadian Press.
A little earlier, Masih and his friends had deposited dozens of lunch bags in another community fridge in Limoilou. There too, the meals quickly found takers.
Pascal, whose health problems make it hard to find work, took four bags to feed his family.
"Since the beginning of the pandemic, meat has been expensive, grocery shopping is expensive, so it helps us put food on the table," he said, expressing his gratitude to the entrepreneurs.
In a time of crisis, the help is appreciated. Because of public health rules, some places where Pascal used to be able eat inexpensive hot meals are closed.
The day before their tour of the community refrigerators, Masih, his girlfriend Emilie Roberge and their friends Geneviève Lafleur and Charles Lacroix had made 200 lunch bags in Lacroix's restaurant, which now sits empty.
It was the second time in a month that the four friends had prepared 200 meals at their own expense for people in need.
"The first time we went to take lunches to a fridge, there were already people waiting in line before we arrived. That shows that there is a need," explained Roberge.
Launched at the beginning of January, "Operation Love" was initiated by Masih, but inspired by Lacroix.
Masih, who was doing home cooking workshops before the pandemic, was set to open a restaurant in the spring when the first lockdown was imposed.
In the space of a few days, all of his plans fell through. "I thought to myself, I have the choice to feel sorry for myself or to roll up my sleeves and help those in need," he said.
When he saw that Lacroix, who had also lost a lot of money since the onset of the health crisis, was making soups with his daughter and then distributing them to community refrigerators, Masih had the idea of getting their friends together to provide hundreds of lunches for people in need.
As the pandemic drags on, Lacroix sees his financial situation getting more precarious. His restaurant employees are finding other jobs, and the challenges that await him when he will be able to reopen the restaurant mount.
"We are small business owners and we have no control over our businesses right now, it's a lot of stress, but we are healthy and we have a home, and this initiative is helping us stay positive and get through the crisis, " Lacroix said.
"The pandemic has made us reassess the priorities in our lives and realize that we are lucky compared to others, and it feels good to give back," added Lafleur, whose catering service providing desserts has been hit hard by the health crisis.
Some of the community refrigerators where the four friends leave food have their own Facebook profiles. So much so that communities are formed around refrigerators. Those who leave food and those who receive it can track and comment on what is available in the fridges.
"There are people who write to me to share lists of needs or to congratulate us," Lafleur said.
According to Remi Proteau, project manager for the organization Le Filon, which manages a community refrigerator in Levis, Que., the concept of shared refrigerators is increasingly popular across the province, which has several dozen of them.
"One of the strengths of shared refrigerators is that the user can remain anonymous. It's simple, anyone can go without being judged," he said. "The donation is also simple. All you have to do is put food in it and indicate the date."
As the pandemic continues to make things difficult for many families, the four friends plan to continue meeting every other weekend at Lacroix's restaurant to prepare and distribute hundreds of meals.
"As long as we are able to do it, we will continue," Lafleur said.
"For now, we continue, we will see where it takes us, added Masih. "If people want to help us or do like us, they are welcome." On its website, the organization "Sauve ta bouffe" offers a directory of community fridges in Quebec.
Elise Gravel: drawing to help others
Stéphane Blais
LA PRESSE CANADIENNE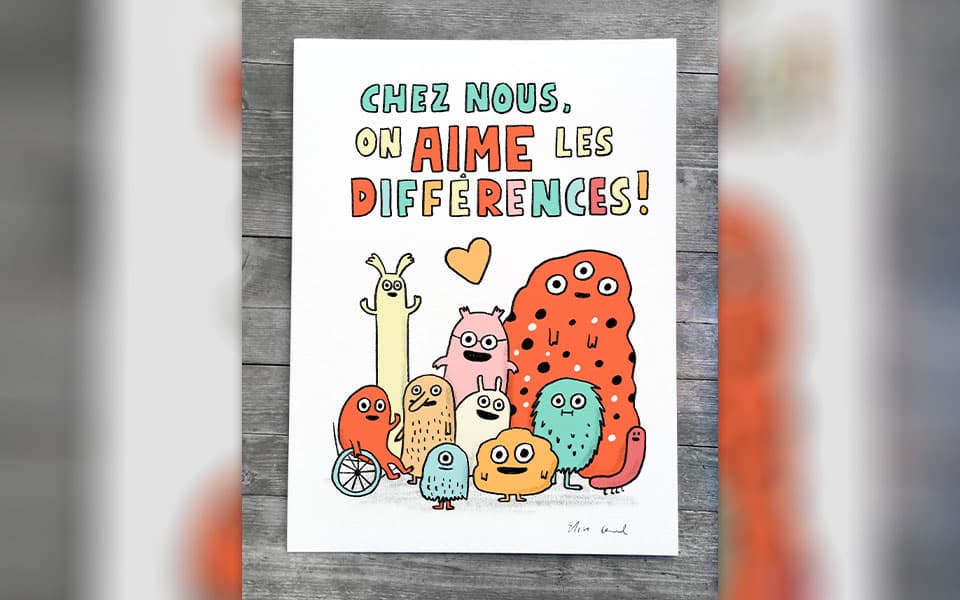 Elise Gravel's New Year's resolution for 2021 was to work less, but that is not likely to happen.
Not only does the well-loved children's author and illustrator have several books in the works, including one featuring a character inspired by Donald Trump, but she also spends a lot of her spare time drawing to help the most vulnerable.
Shortly before Christmas, Gravel put drawings of characters from her books up for sale to raise thousands of dollars, which she gave to Centraide of Greater Montreal to help people in difficulty.
The Montreal writer has kicked off 2021 the way she ended 2020: using her art to lend a hand to others.
On Jan. 21, she invited people who follow her on social media to donate to the Old Brewery Mission in exchange for personalized designs, because she was "horrified by the way the homeless were treated" during the pandemic lockdown.
But the generosity of her admirers caught her off guard. Shortly after soliciting donations, Gravel posted an image of her "aching hand" in an ice bucket, explaining that she had been overwhelmed by the requests.
A few days after making the appeal for solidarity, she told The Canadian Press that she would be busy for "two to three weeks, part-time, drawing personalized little monsters."
This initiative raised nearly $15,000 for the homeless. Several months ago, she also used her art to collect donations for refugees. "What I do best is drawing, and to think that I can make money for others with that is absolutely great," Gravel said.
Drawing potatoes on bicycles, insects with funny legs and little monsters in order to raise money for the less fortunate or to educate young people about various social injustices seems to have become a habit for the author.
She regularly offers free posters to parents and teachers on social media. The simple drawings or educational comics, intended to be downloaded and printed, deal with openness to diversity, consent, racism and even climate change.
The author was awarded the Rights and Freedoms prize from the provincial human rights commission in 2019 for her illustrations which, according to the jury, "allow us to deconstruct prejudices before they even take hold in children." The jury noted that the posters "are shared virally and line the walls of schools in Quebec."
In her most recent illustrated book, "Ollie," the 44-year-old author helps children identify and calm their anxiety. "Ollie" is the name given to a "mad dog" that represents anxiety. This overly excited little dog can be calmed down with a magic leash. She had the idea to write the book when her daughter was young and suffered from anxiety.
Ollie also represents the author's own anxiety. Gravel has attention deficit disorder and regularly experiences insomnia, but she is able to see anxiety as "something that can be positive," that helps her "think outside the box."
"If I was too Zen, I wouldn't feel the need to try to change the world," she said. "It's when I can't sleep that the best jokes and ideas for books come."
There is no shortage of ideas. She is thinking of "writing a book on how to make a book," is finishing another on gender stereotypes and has just signed a contract to publish a comic book about disinformation and fake news.
"This is the book I can't wait to make because it's urgent!" she said, adding that she wants to help children differentiate between fake news and journalistic information.
"With QAnon, conspiracy theories, Donald Trump and the lies, and all these people struggling to distinguish what's true from what's false, fear of science is very, very, very dangerous for our societies,"she said.
In the book, which will be published in English in the United States before arriving on the Quebec market, she will use her usual absurd humor to denounce, but also to explain, the disinformation.
One of the characters in the comics will be a politician "who uses ridiculous lies to attack his opponents." Gravel has yet to find a name for this character, but she makes no secret that he is heavily inspired by Trump.
Another of her 2021 resolutions, in addition to trying to work less, was to read less about American politics, but that may also have to go out the window.
Romanian activist urges people to do something good every day
Vadim Ghirda
THE ASSOCIATED PRESS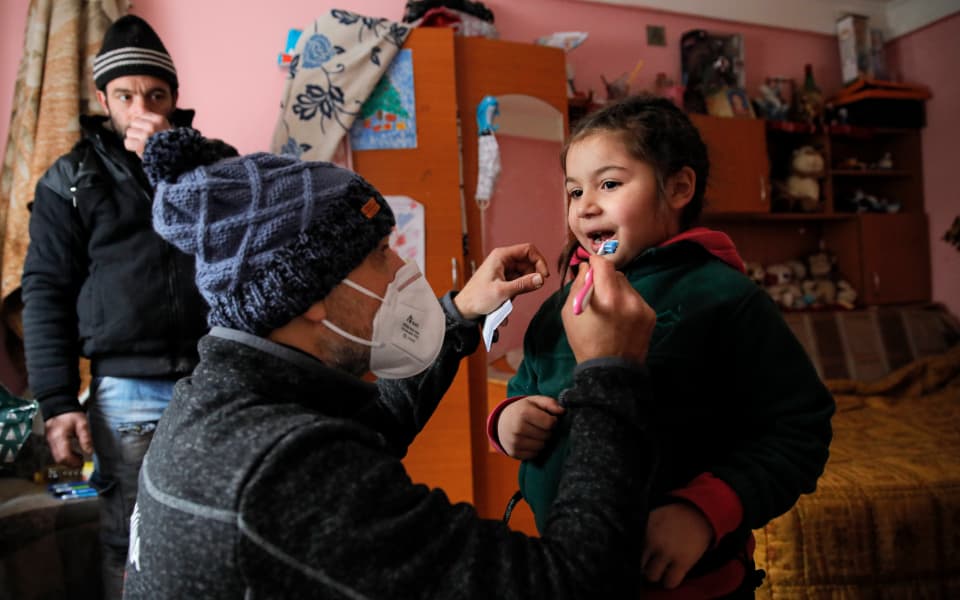 A little girl gets help from Valeriu Nicolae to learn brushing his teeth correctly as her father watches in Nucsoara, Romania, Saturday, Jan. 9, 2021. The rights activist has earned praise for his tireless campaign to change for the better the lives of the Balkan country's poorest and underprivileged residents, particularly the children. (AP Photo/Vadim Ghirda)
NUCSOARA, Romania (AP) — A gentle hero to many in Romania, Valeriu Nicolae says that, at heart, he is more like former NBA star Michael Jordan — highly competitive and eager to improve in what he does best. In Nicolae's case that is helping others.
The Romanian rights activist has earned praise for his tireless campaign to improve the lives of the Balkan country's poorest and least privileged residents, particularly children.
This is a daunting task in the country of 19 million where hundreds of thousands of children lack basics and are unable to attend school. Romania is a member of the European Union but bad management and widespread corruption have stalled economic and social progress.
Nicolae told The Associated Press that for society to change, individuals should, too. He also thinks it should become mandatory for politicians to help someone before they take public office.
"It should be the basics: do good things for others!" he said. "Even a tiny bit of good for someone around you, and no bad at all."
Since starting in 2007, Nicolae's humanitarian organization Casa Buna, or Good House, has taken upon itself to support and supervise 315 children. The group provides aid and backing for the children and their families, including clothes, computers or books — but on condition they do not drop out of school.
Nicolae is a strong advocate of education to keep children off the streets and prevent them from straying later in life into alcohol or drugs. His work has gained further importance during the coronavirus pandemic that has increased social isolation and made life even harder for the poorest around the world.
On a frosty and snowy day this month, Nicolae's team visited villages at the foot of the Carpathian mountains, some 200 kilometers (120 miles) northwest of Bucharest, to deliver aid such as flour, sugar or hygiene products to people enduring the cold winter weather.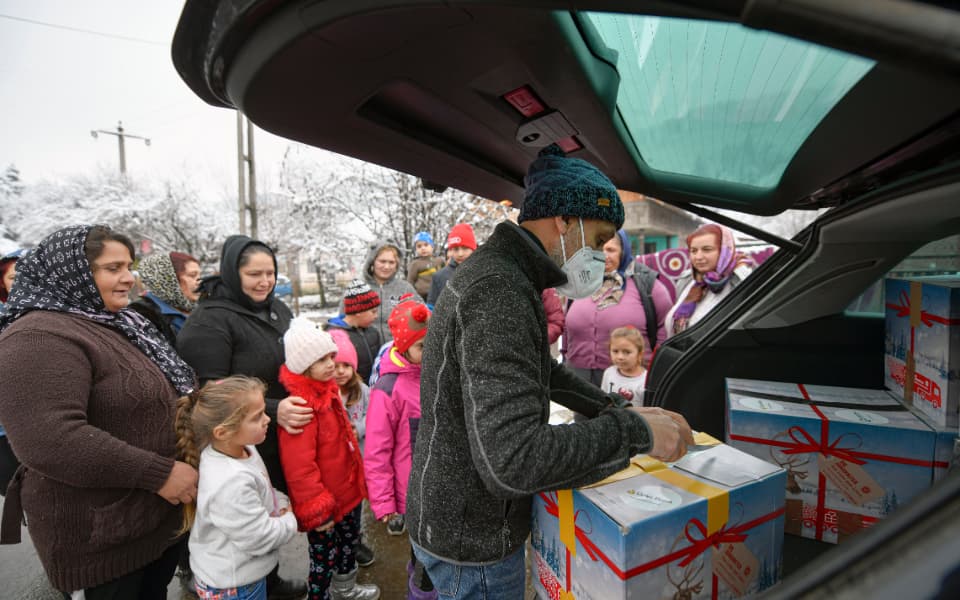 Valeriu Nicolae distributes boxes containing basic food, hygiene and medicinal products in Leresti, Romania, Saturday, Jan. 9, 2021. (AP Photo/Andreea Alexandru)
Many holding children, the residents of Nucsoara came out of their homes to greet Nicolae. Most of the houses in the village are unfinished, and families live cramped in small rooms. Among the necessities Nicolae brought along were toothbrushes, and he showed some of the children how to use them properly.
"There is nothing better than seeing you've changed the life of a child for the better," he said. "I don't think there are many people more rewarded by what they do than me."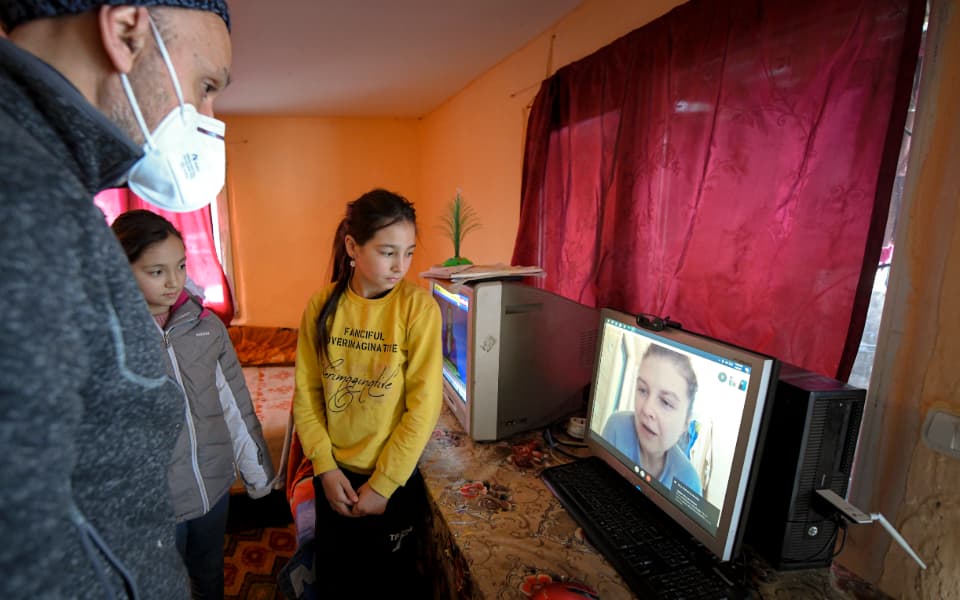 Children join Valeriu Nicolae on a video call with a voluteer that assists with homeschooling, on a computer provided by the Good House, or Casa Buna in Romanian, an association he leads helping underprivileged children have access to education, in Nucsoara, Romania, Saturday, Jan. 9, 2021. (AP Photo/Andreea Alexandru)
Himself coming from a poor background among Romania's Roma, or Gypsy, community, Nicolae said he also was motivated by the help he received as a child which he said pushed him forward later in life. Throughout the Balkans, Roma minorities routinely face discrimination and remain among the poorest and most neglected communities.
Painfully aware of the anti-Roma sentiments that are widespread in his country, but also of global racism, Nicolae was among the initiators of the Respect anti-racist campaign during the soccer 2010 World Cup in South Africa. He has won international awards in recognition for his children's education bid.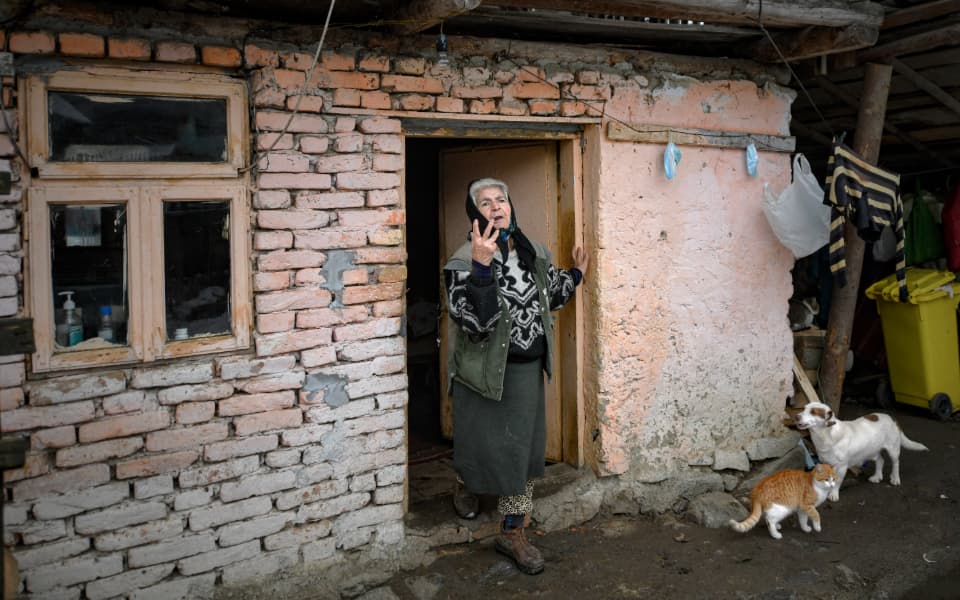 An elderly woman gestures while watching Valeriu Nicolae deliver basic goods to families with school children in Nucsoara, Romania, Saturday, Jan. 9, 2021. (AP Photo/Andreea Alexandru)
"I was successful in helping many children and adults. I am stubborn and don't do things just for one day," he said. "I also failed thousands of times but that has placed me in a position to succeed (the next time). I never failed in the same way twice."
A rare failure was Nicolae's bid as an independent candidate in Romania's December parliamentary election, when he fell just 17 votes short of a winning a seat after being denied a recount. Nicolae had hoped to press for education reforms to enable access to basic schooling, and also for better management of public money.
"I want to be a better person, a little better every year if possible," he said. Jokingly, he added: "I don't want to be a saint, because saints tend to have a tragic end."
Woman's salve for devastation of Lebanese blast: 100 dolls
Miriam Fam
THE ASSOCIATED PRESS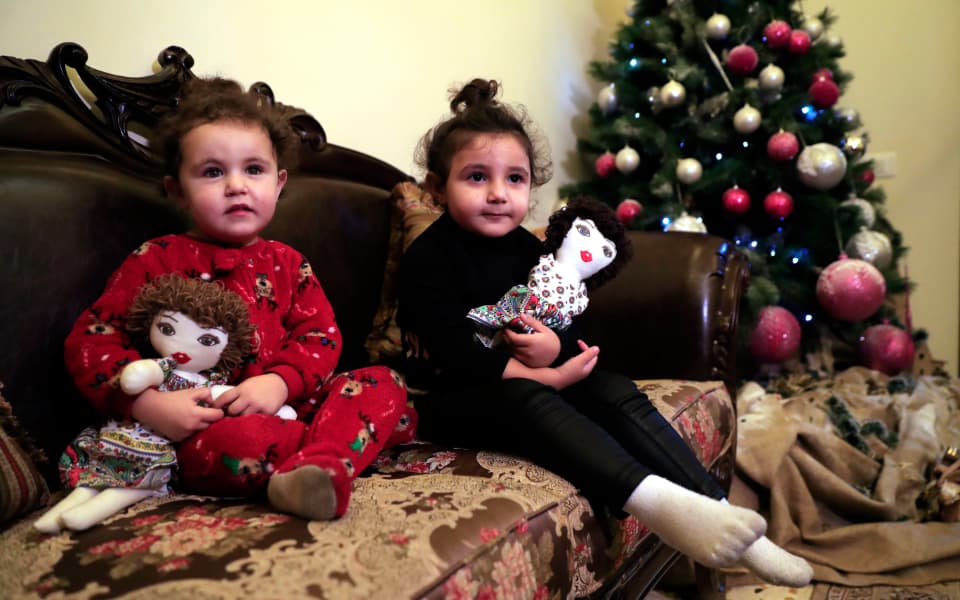 Sama Chlawuit, left, and her sister Sima-Rita, whose family home had the windows blown out during August's massive explosion in Beirut, hold their dolls at their grandfather's home, in Beirut, Lebanon, Tuesday, Dec. 29, 2020. After the explosion, painter Yolande Labaki made 100 dolls for children affected by the destruction. (AP Photo/Hussein Malla)
In the wake of a massive explosion that devastated Beirut, 93-year-old Yolande Labaki sought a way to help bring healing to the Lebanese capital.
The internationally recognized painter's solution was to make dolls — 100 of them, distributed to children traumatized or otherwise affected by the destruction.
Her inspiration was another Lebanese tragedy, etched in her memory: the look on the face of one of her grandchildren, then about 3, when his home was damaged during the country's 1975-1990 civil war.
"He saw all his toys on the ground amid the rubble and asked me: 'Who broke my toys?' His eyes were filled with tears," she said.
So when a huge stockpile of ammonium nitrate stored at the Beirut port ignited and blew up on Aug. 4 — killing more than 200 people, injuring thousands and leaving a swath of the city in ruins — Labaki thought of the children, and how "they, too, must be asking who broke their toys."
Labaki gave herself a challenge, and a deadline.
"I said: 'God, if you give me the power, I will make 100 of these by Christmas,'" she recalled.
And thus began a monthslong labor of love.
Getting the doll's face just right — she wanted to make sure it wouldn't scare the children — was difficult. The great-grandmother painstakingly embroidered features using a sewing machine, stuffed fabric with cotton and tailored tiny dresses. And then non-governmental organizations helped distribute the dolls.
Two went to the daughters of Beirut resident Georges Chlawuit. The blast blew out windows at the family home, he said.
"At least she thought of these poor kids after what has happened in the explosion," he said. "May God keep her and give her good health. If it weren't for how the Lebanese people came together, we wouldn't have been able to stand back on our feet again."
His daughters, he said, have been sleeping with their new dolls.
Labaki's reward: photos with the beaming faces of girls who received her dolls.
"It's a gift for me more so than it is for the children," she said.
Student-run free grocery store helps feed town's hungry
Luis Andres Henao
THE ASSOCIATED PRESS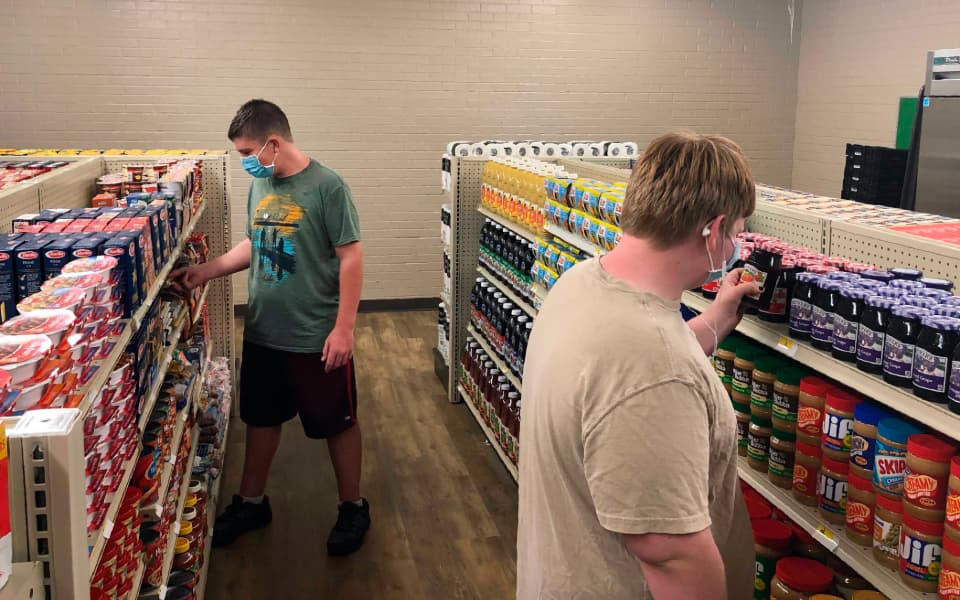 In this photo provided by Anthony Love, student Hunter Weertman, 16, left, stocks shelves and takes inventory while working as a manager of the student-led free grocery store at Linda Tutt High School on Nov. 20, 2020, in Sanger, Texas. The store provides food, toiletries and household items to students, faculty and community members in need. (Anthony Love via AP)
Traditional school stores might offer snacks and knickknacks, school gear and notebooks — but the one at Linda Tutt High School in Sanger, Texas, has a very different inventory and clientele.
At Linda Tutt you can get everything from produce, milk and eggs to pasta, peanut butter and canned goods to dishwasher soap and laundry detergent. Students and staff can shop there, but on Tuesdays the store is open to the community.
And it's all free.
"I like seeing their smiles, seeing how appreciative they are, and knowing that they are thankful that we're doing something like this," said Hunter Weertman, a 16-year-old junior who stocks shelves and takes inventory at the store housed in an unused art room. It has been open since November.
The idea is to provide students with job skills, and at the same time help students, staff and local residents who are in need. And the store has one more purpose: teaching the youngsters the value of giving back to their community.
"I've really seen the students take pride in working in the store," principal Anthony Love said. "They're excited about coming to school. They're excited about helping in the grocery store and just being a part of it."
Residents who shop at the store are assigned a number of points — the larger the family, the more points they receive and the more merchandise they can "buy." There's no in-person shopping because of the pandemic, so instead they fill out a list and students bring their groceries to their cars.
About 130 families have used the store, Love said. Each week, the store's staffers package groceries for students who qualify for the Friday Backpack Program because their families need additional food for the weekend.
In addition to family points, students earn points for their work in the store or for doing other tasks at the school such as gardening, mentoring elementary schoolchildren or helping in the cafeteria. And they can garner even more points for outstanding classroom performance or being kind to others.
The town of about 8,000 people northwest of Dallas knows poverty — more than 43 percent of the district's students are considered economically disadvantaged. It also has had to deal with the coronavirus; the opening of the store was delayed by a month after Love was treated at a hospital for COVID-19.
The idea came from Paul Juarez, the executive director of First Refuge Ministries, a nonprofit that funds the project through a grant from the faith-based medical group Texas Health Resources. Juarez, who began to work as a package clerk at a grocery store at age 16 and moved up to management, said he has been getting calls from schools across the United States.
"I've been just talking to everybody, from Delaware and New York, New Jersey, Florida, all the way to Juneau, Alaska," he said. "I probably talked to about 50 or 60 people that want to actually do this in their school districts."
Hunter Weertman said one reason the store is important is to show "the good that has come out during the pandemic."
Weertman, who is autistic, was beaten by other students at his previous school, said his mother, according to his mother, Sila Carr. She says his work at the store has helped him regain his confidence.
"He's just learned that being kind does pay off," she said. "The school has brought him out of his shell to be more open."
Guatemalan fights hunger with book-for-food barters by bike
Giovanna Dell'orto
THE ASSOCIATED PRESS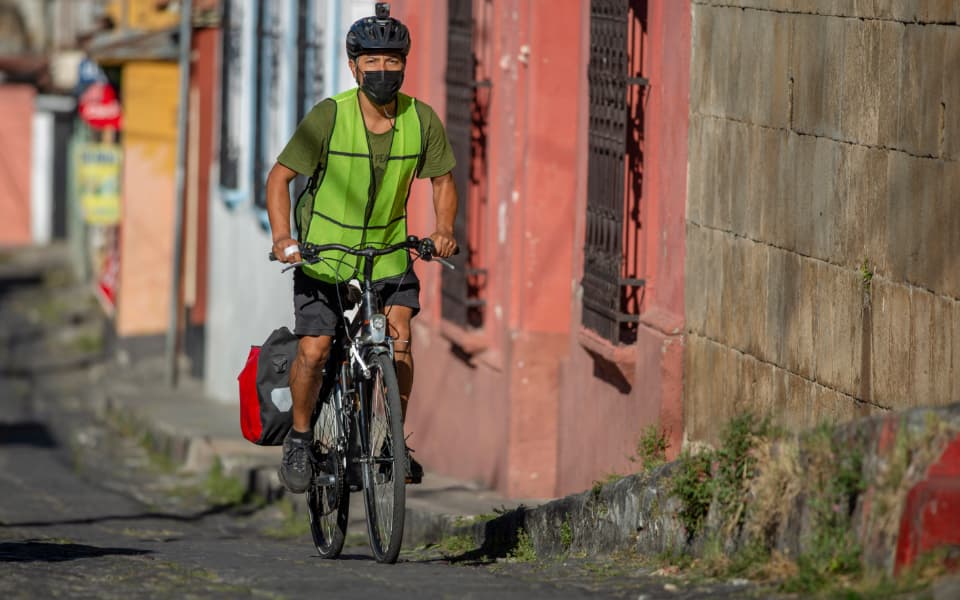 Bonifaz Diaz rides through the streets of Quetzaltenango, Guatemala, Saturday, Jan. 30, 2021. Diaz has pedaled thousands of miles to carry books that people can barter for bags of a cereal mix aimed at providing relief to families suffering chronic malnutrition. (Henning Sac via AP)
Bonifaz Díaz biked through the sprawling city of Quetzaltenango, 7,640 feet (2,330 meters) above sea level among Guatemala's volcanoes, to deliver a sociology book to the home of a local teacher. He pedaled away with four brightly colored bags of Incaparina, a popular cereal mix crucial in fighting child hunger.
The coronavirus has worsened child malnutrition in Guatemala, which already suffered from the worst rate of it in the Western Hemisphere. Since the pandemic hit, Díaz has cycled more than 1,200 miles (2,000 kilometers) with his saddlebags filled with donated books, and lugged back thousands of pounds of the oatmeal-like food for a local NGO that feeds nearly 400 kids.
People pick a book they want from a list of donated titles, and in return give several bags of Incaparina. By bringing the books-for-food barter program directly to people's homes, the 44-year-old is ensuring that donations keep flowing to fight the hunger crisis as many people stay home as much as possible to avoid catching or spreading the virus.
"People want to provide support, but … the 'stay-at-home' has gotten very strong," said Díaz, an actor by profession and avid cyclist. "People get motivated if I go to their home with my bike."
He sometimes tows a small cart to be able to carry as much as 125 pounds (57 kilograms) and has gone as far as 37 miles (60 kilometers) for a delivery to a nearby town in the highlands, where many roads are gutted with potholes.
A 1 pound bag of Incaparina, which provides 24 servings, costs just 9 quetzales ($1.15). But that's well out of reach for the families that are served by the nonprofit 32 Volcanoes, co-founder Dr. Carmen Benítez said, with 97% of those households scraping by on less than that per day in income.
Nearly half the population of Guatemala's Western Highlands, a majority-indigenous region, suffers from chronic malnutrition, according to the World Bank, and Incaparina is a lifesaver for many families.
On visits to rural homes that get help from 32 Volcanoes' nutrition programs, Benítez often sees little food on the shelves other than a bright red Incaparina bag, some salt and corn for tamales — or cheap, processed foods that do nothing to prevent stunting and increase diabetes, as well as learning and behavioral disabilities.
With the number of kids her association helps skyrocketing from 120 to 382 during the pandemic, "the bartering is food security," Benítez said. "The idea is that before age 5, children won't already be chronically malnourished."
And the initiative is having an impact.
"Seeing that the children are less scared, that they play more … that is where we can get results," she said.
Nearly a year into the books-for-food program, two more cyclists have joined Díaz. Donations are pouring in, from books and artwork for bartering to different kinds of nutrient-rich foods like amaranth grain.
Ana Castillo, the 29-year-old high school teacher who last weekend received the sociology book, "Liquid Love," a study on modern relationships, is a regular donor. The 4 pounds (1.8 kilograms) of Incaparina she provided in return will help a highlands family eat for a month.
Castillo delights in choosing her books from the titles Díaz posts on social media, and she loves the feeling of a "growing circle" of giving and receiving.
"You might not get to those places, but your help can," she said. "This small grain of sand to be able to change this country."
For his part, Díaz plans to continue cycling against hunger as long as it's needed, even as he's struggling economically as well since the theater company he co-founded has been shuttered since last spring.
"It's an opportunity to serve in which we all benefit," he said.